The Canal du Midi is a unique work of art that connects Toulouse to the Mediterranean Sea. Created in the seventeenth century by Pierre-Paul Riquet, it is listed as a World Heritage feature by UNESCO.
Its towpath is a magnificent and endless strip of beauty to walk or ride along - especially charming around Capestang, Poilhes and Olonzac.
Find all the practical information you'll need at the Canal du Mid tourist office and the maison cantonnière in Capestang .
Discover the history of the Canal du Midi here.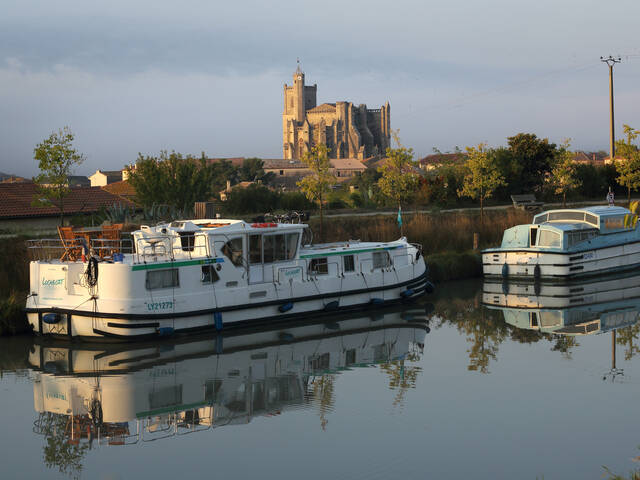 Boating on the canal
Boating is easy with a bit of intelligence and a willingness to learn. Rent a river boat, you don't need a license, and take a trip along the water, floating past the many works of natural and man-made art. The Canal du Midi has a total of 63 locks and navigating them is one of the highlights of a boating holiday.
In Capestang, in the tourist office and the port authority can inform you about the many port services available: water and electricity, internet, toilet blocks with showers, washing machines, and dryers, among other services.
You can also rent a boat - no license necessary - for an hour, a half day or a day from the port of Capestang or take one of many organised cruises offered by our service providers.
Classique - 3 colonnesCarré
Nom de la fiche :
FRANCE BY RIVER [sheet--1680190]
Nom de la fiche :
C.A.N.A.L. [sheet--1679782]
Nom de la fiche :
CAPITAINERIE DU PORT CAPESTANG POILHES [sheet--1680585]
TéléphoneVilleClassement (Hébergements)TypeAvisRéservationDescriptionPrix
Cycling
By bike, the Canal des Deux Mers is a true royal road for river tourism and cycling, formed by the Canal de la Garonne and the Canal du Midi. The route is best for experienced cyclists and families. With a length of 700 km, it is the only route in Europe to allow you to connect the shores of the Atlantic to the beaches of Mediterranean. To prepare your stay and your route, visit France Vélo Tourisme.
The Canal is also an opportunity for a short ride, for the whole family and even by less sporty visitors! Vélogenie, the local hire company, will rent you a bike for a day or longer.
Sleeping on the Canal du Midi
Slider - 3 colonnesCarré
Nom de la fiche :
HÔTEL BARGE THE ALEGRIA [sheet--1679505]
Nom de la fiche :
HÔTEL BARGE THE CAROLINE [sheet--1680456]
Nom de la fiche :
HÔTEL BARGE, THE EMMA [sheet--1680510]
TéléphoneVilleClassement (Hébergements)TypeAvisRéservationDescriptionPrix