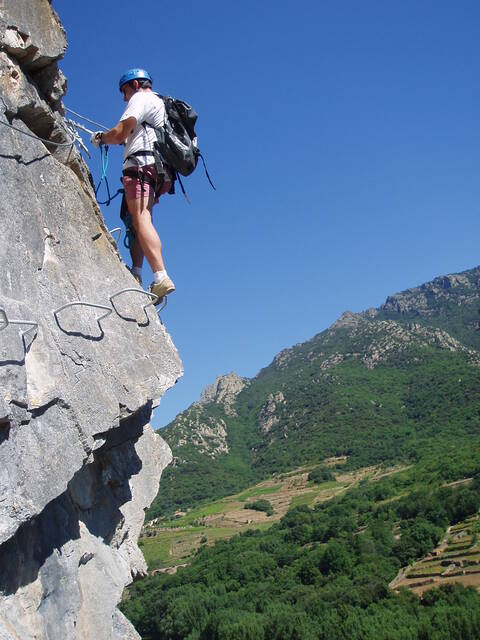 The Caroux is revealed in the imposing character of its "needles," the omnipresence of the rock and its jagged relief, a mountain cut by gorges and crossed by river torrents. Exceptionally steep, it lends itself perfectly to extreme sports.
Via ferrata
From the via ferrata at Tarrassac, discover the most exceptional views of the Caroux. A fun alternative to climbing, keeping all the thrills of being so far from the ground, the Via Ferrata is a challenging but safe way to cross a rock face. A moment of vertigo and adrenalin, and a sense of achievement when the challenge is met. In the evening, stay in the theme up in a tree camp with Benjamin, your guide.
Discover climbing with our climbing professionals:
Canyoning, paddle and rafting
It goes without saying that the Caroux mountains, with their vast array of fast-flowing streams and rivers are particularly conducive to canyoning, white water rafting, paddle and canoeing.
To find out more, meet our professionals in aquatic leisure:
In the tyre tracks of the Enduro World series in Olargues-Montagnes du Caroux
Follow the very trails used in the Enduro world series and the Epic Enduro competitions with a holiday plan put together by the organizing club, Vélo Caroux.
Exclusive training by the local team, which organises the international events
Your mountain bike adventure is all downhill thanks to the shuttle drop-off service
Full board in charming accommodation: stay focused on your ride!
A friendly atmosphere guaranteed!!
To prepare your stay, contact the Minervois Tourist Office on: +33 (0)4 67 23 02 21​