A village with the typical local circular architecture, nestled in a meander of the winding valley of the river Orb, Avène has kept all its old charm, with narrow streets surmounted by beautiful porches. Famous for its spa and beauty products that bear the name of the town, the water here is abundant and healing, in a little oasis of greenery.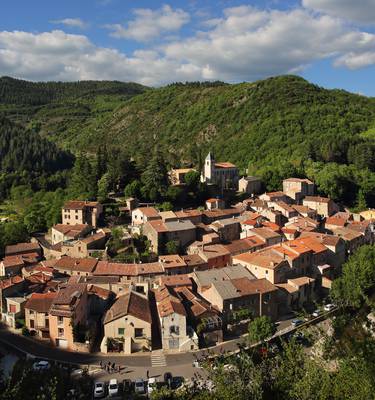 The Spa, once upon a time...​
Let us tell you the story of Avène, going back to its very beginning. The qualities of the waters of Avène were discovered by chance. The Marquis Rosset de Rocozels (1690-1763), nephew of Cardinal Fleury, had a faithful horse called Dobin. It was suffering from a terrible rash in the bottom of the meadow, between its trees. One day, after a long bath and drinking water from the spring, his hair became beautiful and shiny. The same water was used to treat the burns of victims of the great fire that devastated Chicago in 1871. The spring was declared to be of "Public Interest" in 1874.
In 1975, Pierre Fabre, the famous pharmacist, rebuilt the Sainte-Odile spring buildings and developed the spa as a commercial concern, which has continued to grow ever since.
We'll have lots other stories and legends to tell you when you come to stay in Avène,
A captivating natural environment​
Surrounded by forests that adorn themselves with the finery of golden colours in autumn, this is a place to relax take it easy. Hiking trails, walks along the river Orb and on the banks of the lake, fishing, picking mushrooms... Let yourself be carried away by the landscapes and a natural environment of great beauty