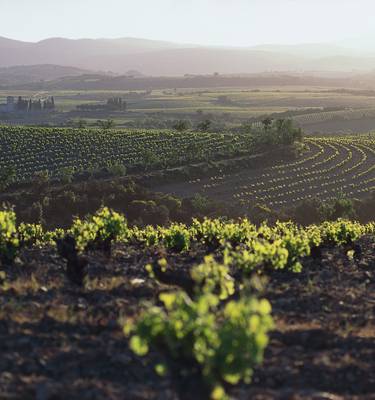 This appellation extends over the area around seven villages and their hamlets, which reach a maximum altitude of 500 meters above sea level. It is also the only entirely homogeneous soil in the Languedoc, 100% shale, and today almost a third of its surface area is under are organic or biodynamic cultivation.
The landscapes are interesting because rather than being planted in straight lines, the vines follow the contours and curves of the slopes. A particularly beautiful sight.
The AOC Faugères was recognised by the authorities in 1982 for its reds and rosés and in 2005 for its whites.
The vine growers of the "Faugères, Nature Schist" appellation distinguish their best vintages, with the label "Faugères Grand Terroir de Schist".
The wines are powerful, ample and round with silky tannins for the reds. The rosés have floral notes and aromas of red fruits, in contrast to the whites that perfectly express the minerality of this schisty soil.
Fine de Faugères - the spirit
Fine de Faugères, a spirit made from the wines of the appellation, was the first eau-de-vie in the Languedoc to be recognised by the authorities, in 1948, and today holds the prestigious Indication Géographique de Spiritueux status. It is distilled in a unique way, in a Charentais "re-pass" still, giving a fine round, pleasant and complex character.